Mining in Argentina
© Special report by Rojas & Asociados
The mining sector in Argentina is becoming highly dynamic, providing genuine and sustainable development. The significant geological potential started to awaken over 15 years ago, and seems to advance relentlessly.
During the 1990's, the establishment of a trustworthy legal framework facilitated investments of over US 4,000 M in a series of new mines and exploration. At that time, an unprecedented increase in production and exports took place, as world-class deposits went into operation: Bajo de la Alumbrera (copper, gold); Cerro Vanguardia (gold, silver), Martha Mine (silver) and Salar del Hombre Muerto (lithium) joined existing operations of Farallon Negro (gold, silver), Andacollo (gold), borates deposits (such as Tincalayu) and Aguilar Mine (silver, lead, zinc), the latter having entered in production in 1936. In 2005, Veladero (gold) also started production in the prolific province of San Juan, and in 2007, San Jose (gold, silver, copper) in Santa Cruz province.
More recently, during 2008 and 2009, Pirquitas (silver, tin), Manantial Espejo (silver, gold), Gualcamayo (gold, silver) and Sierra Grande (iron) went into production, with a combined investment of over US 550 M and hundreds of jobs created. Pascua Lama (gold), the first bi-national project, started its construction in September 2009, with an investment of US 2,800 – 3,000 M, and at the same time Casposo (gold, silver), with an investment of  US 115 M. Agua Rica (gold, copper, molybdenum) with US 2,000 M and Pachon (copper), with US 1,500 M are both in the financial feasibility  stage and expecting decisions from their operators, but continue to develop. Rio Tinto sold its Potasio Rio Colorado project to Brazilian giant Vale to soften the burden of their debt. This project will imply over US 2,000 M in investments for the processing plant and infrastructure needed to transport the potash. At present, the company continues with the process of approvals in Mendoza.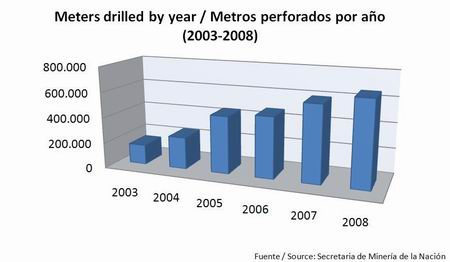 Cerro Negro, from Andean Gold, recently announced the favourable results of its feasibility studies. San Jorge, from Canadian Coro, received definition for its public hearing. Navidad (silver) was acquired by Pan American Silver and continues advancing its feasibility studies. Diablillos (gold, silver), Rio Grande and Lindero are advancing its exploration, better defining its resources and economics. At the same time, exploration continues at several parts of the country, from Jujuy to Santa Cruz, with deposits such as El Altar, Los Azules, Pinguino and Tendal, as well as several lithium and uranium projects. The current level of exploration showed a peak during 2008: over 660,000m were drilled across the country.
For the development and exploration of these and other advanced projects, potential investments of over US 9,000 M are estimated for the next five years. Of these, 30% are confirmed.
Today, with the slow recovery after the financial crisis, Argentina is privileged: at this point, 17 mines are producing -12 of which are metalliferous-, 2 are being built and the country is increasing production of gold, silver, copper and lithium, as well as a  relevant exploration activity. Over 150 companies are active in Argentina, including major players as Anglogold, Vale, Rio Tinto, Barrick, BHP Billiton, Xstrata, and Teck; intermediate companies like Pan American Silver and Silver Standard, and juniors like Minera Andes, Exeter, TNR Solitario, Mansfield and Hochschild, to name a few. Investment comes mainly from Canada, Argentina (from state owned companies, mainly), the US and Australia. Countries such as Switzerland and South Africa have a growing presence, and China, Brazil, Peru and Japan are increasing their participation.
The international mining community is witnessing the growth of investments in the search, evaluation and mining of deposits in the country. The activity is quickly becoming a development axis, and subsequently, requires an increased offer of products, equipment, machinery, services, human resources and new project generation.
Argentina is gradually becoming a mining country